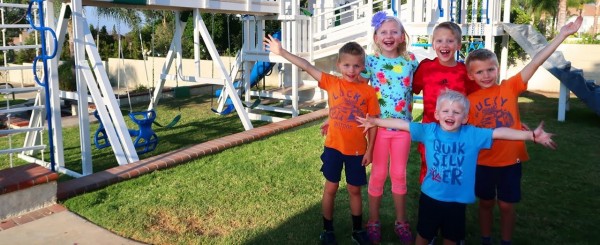 If you considered the back yard among the most important features when you were shopping for your home, this article is for you! At Dream Retreats, we understand the cherished sanctity of the back yard as an extension of the home.
We recognize the great versatility offered by your patio, deck and back yard. While there are myriad ways to relax, enjoy hobbies or cook out in the back yard, today we're focusing strictly on fun. We've compiled a list for you that represents five of the best features you can put in your back yard to ramp up the fun factor in your own slice of the outdoors.
Just be forewarned – if you install any of these awesome amenities, don't be surprised if you suddenly find your backyard frequented by more neighbors than you even knew you had!
Playground
We'll start with the classic feature for kids, known far and wide as a staple of any back yard: The Playground. The great thing about playgrounds in your backyard is there are TONS of options when choosing the types of equipment you want to install.
There are playgrounds for any size yard, whether you opt for a single swing set or a sprawling recreation area. Today's playgrounds are quite innovative and offer a dizzying amount of customization.
Sport Court
Depending on how much space you have to work with, you might want to consider a multi-purpose athletic court. You'd be amazed how much you can do with a hard, flat surface with lines painted on it! With just one sport court, you and your kids can play basketball, tennis, volleyball, dodgeball, foursquare and any number of school playground favorites.
Golf
This is one backyard feature that will definitely appeal to adults as well as the kiddos. We would all love to install a full size 18-hole golf course (even 9 holes would be wondrous) in our back yards. While such a venture might be impractical, we can still enjoy that leisurely feeling of hitting the links.
You could install a putting green or two, or if you have more room, a small mini golf course. If you have a pool, you might also want to pick up a floating golf green upon which to practice your chipping and pitching.
Dog Exercise Course
Given that about 45% of all households in America have a pet pooch, we felt it was important to feature one idea just for man's best friend. A doggy exercise course is a fun, unique backyard feature that will keep Fido fit and help you train your pet, all the while providing oodles of entertainment for you and your kids. These exercise courses are remarkably customizable and surprisingly affordable.
Mini Camp Site
If you ever went camping in the back yard as a kid, or at least laid out under the stars in the summer time until the mosquitos drove you indoors, you may want to consider this fun feature. Installing a mini camp site is easy and you can make a great one to fit your space, within whatever budget you choose.
It's best to set up your 'camp site' near a darker, corner area of your yard to add the illusion and ambiance of a real camping trip. The basic setup includes a fire pit, some soft level ground for tent pitching and a couple of wooden benches or a picnic table. You might also consider placing a small shed nearby to store firewood, rustic cookware, fire-tending utensils, blankets, bug spray and lanterns.
Todd Stetka is a home improvement specialist and blogger from Dream Retreats.