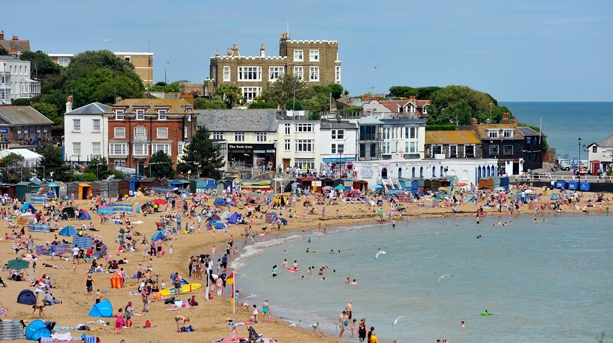 Broadstairs is a genteel resort town on the coast in East Kent. Often overlooked because it is flanked by the more boisterous towns of Margate and Ramsgate, it has an altogether more refined atmosphere. If you are looking to re-locate in the south east and have identified fresh sea air, buzzing community life and attractive surroundings as your priorities, then take a visit soon.
So how come Broadstairs has managed to slip under the radar for so long? Well, it hasn't actually been hiding away, it's simply that its location seventy six miles outside of London traditionally made it the perfect distance for escaping the city smoke.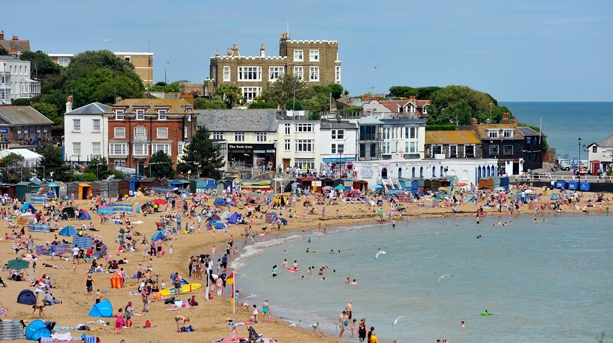 Easily Reached
Now that the new direct train route into St Pancras International has cut the shortest train journey down to around one hour and twenty minutes, Broadstairs is suddenly a whole lot more desirable to commuters and families priced out of London real-estate craziness. What used to be a fun location for holidays and day trips has suddenly become a viable place to live full time.
Who Lives Here?
The demographic of Broadstairs is mostly made up of people local to the area of Thanet. Incomers tend to stick around once they arrive in Broadstairs – which is a good sign. The steady influx of retirees heading here for the sea air, golf courses, good shopping and transport links, combine with the new settlers with young families heading out from London. It is this dynamic blend of young and old that keeps the community alive and interesting.
Beach Beauty
One of the main plus points of Broadstairs are the beaches. From sandy surfing beaches to more intimate coves, the coast line and cliffs are Broadstair's major asset. For lovers of the outdoors, dog walkers, sailors, anglers, all types of surfers (including wind and kite surfers), the beaches are ideal. Viking Bay is the main sandy beach lined by quaint, colourful beach huts that is patrolled by donkeys in summer and has traditional Punch and Judy performances, too. The promenade, bandstand and old fashioned styled ice cream parlours such as Morelli's which do a fabulous Knickerbocker Glory, combine to create a nostalgia packed seaside treat with universal appeal.
Culture on the Coast
Leaving London doesn't mean you will be missing out on cultural events. In nearby Margate, Turner Contemporary art gallery has regular exhibitions of global note. Charles Dickens has strong connections to Broadstairs, writing his famous novel David Copperfield during his time here. There is an annual literary festival celebrating his work – during this time the town takes on an even more Victorian guise, with many attendees dressing up in historic costumes to add to the fun.
The Folk Festival in August is a high point on the Broadstairs calendar, attracting musicians and revellers from far and wide to the sun, sand and songs. Moving about the local area is made easier by established taxi and chauffeur services such as www.cannonsscs.co.uk which are able to run you around the town and further afield as well. For airport journeys, trips up to the theatre in London or group day trips to see the local sights, Cannon Chauffeur Services are the leading Broadstairs taxi and car hire firm.
Property Picks
The most popular places to live in Broadstairs, and the areas where prices have risen most steeply are North Foreland, Joss Bay and Kingsgate. As a historic resort town you would expect to find some grand detached residences and there are some stunning Edwardian homes standing in proud seclusion in the North Foreland area. If cute fishing cottages are more your style (and budget), head to Crow Hill and York Street, where you'll find a mixture of cottages, terraces and townhouses in Victorian and Edwardian architecture, lined up prettily. Run down renovation projects are getting harder to come by these days, but keep your eyes and mind open for unexpected opportunities that occasionally pop up. Sea views are what really ramp up the cost of a home in Broadstairs, so bear this in mind when on the hunt.
If you have itchy feet and are seeking fresh new horizons, nothing can beat the beachy beauty of Broadstairs. Why not hop on the train and see for yourself why this place was voted second after St Ives in Cornwall as a leading UK resort? Discover in person the pretty beaches, quaint shops, lively pubs and quality restaurants that fill this place with a unique energy. Sleepy, forgotten seaside town? Nothing could be further from the truth in buzzing Broadstairs…