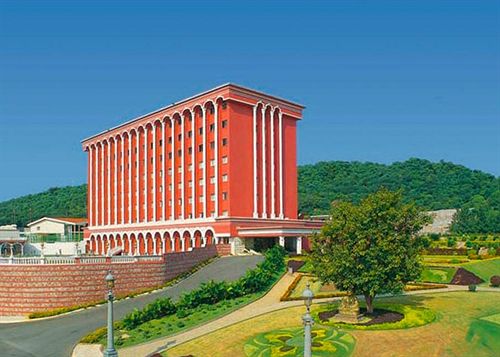 Anajpur is a small town in Telangana, about 40 km from Hyderabad. It is a modest town which offers a spectrum of adventure, fun, and thrill at its Ramoji Film CIty. With many attractions and engagements, the place has a lot to offer for your vacation. Read on.
Anajpur is a small town in the newly formed Telangana state. The city has a serene setting and it is most famous for Ramoji Film City which is set up in a huge 2,000 acres of area. Anajpur is a perfect destination for sub-urban as well as cinema tourism in order to understand the minute nuances of the film making culture of India. Reaching Anajpur is easy as it is just 40 km away from Hyderabad. It is well connected by road. Although there are limited choices of accommodations in this town, there are some nice hotels in Anajpur that offer good hospitality.
Ramoji Film City at Anajpur has plenty of attractions to offer to the visitors. The Eureka building hosts a variety of live shows that include dances, songs, street shows, etc. There are themed markets and play courts for kids. The Movie Magic Park is another attraction here. This is an amazing place to be at. Sets that mimic famous world cities and locations such as Paris and Singapore are right here and you would feel like you are at some foreign tourist site. Movie Magic Park has Ramoji Towers that has some nice adventures in store, such as the free fall and earthquake tremors. Filmi Duniya is set full of Bollywood creativity and themes. Action Studio offers you the chance to be a movie director and you even get a final copy. This park is completely a thrilling experience. Fundustan is the playfield in Ramoji Film City at Anajpur where there are a number of rides, games, and other fun awaiting the children. You can also take a tour of the Studio that hosts a number of beautiful gardens. This is not all, since your Anajpur visit has just begun. The film city has several nice restaurants as well so that you can pamper your taste buds with some delicious food which run from biryanis to burgers and steaks. There are a lot of souvenirs to shop for at Ramoji Film City. You can shop for a number of merchandises here from the Meena Bazaar and other stores.
It is better to stay in one of the cheap hotels in Anajpur, as you would like to splurge more on the fun and adventure than on the accommodation. There are several hotels inside Ramoji FIlm City and many of those offer a luxurious stay as well. But you can also choose from the economy range of hotels which have a reasonable tariff. Anajpur is a fun place to be at if you are planning a holiday tour with your family and friends. It is a nice destination for excursion as well. Ramoji Film CIty is a must-visit here in Anajpur and cannot be missed at any cost! It can be your favorite place for a quick and fun getaway.