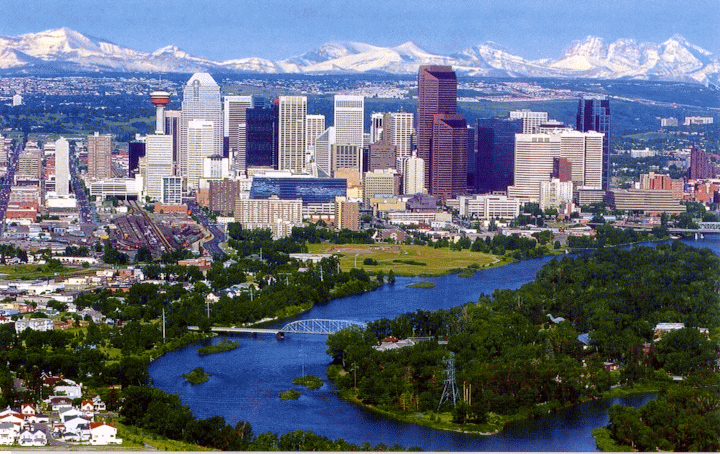 Calgary, the largest city in Alberta, is located where the foothills to the Rockies and the prairie join. It is the eastern entrance to the Rocky Mountains and center of vacations in the western plains. The city is a major municipality with an attraction to the Canadian population. Visitors to Calgary will find a host of activities for their vacation.
Interesting Neighborhoods
Calgary has an assortment of unique neighborhoods. The Beltline and 17th Avenue is Calgary's primary area with a diverse mix of restaurants, boutiques and bars. It is the center of the city's nightlife, particularly during hockey season when it becomes the Red Mile. Forest Lawn is home to its varied culture and the location of the Central American, Lebanese and Vietnamese restaurants. Inglewood, Calgary's historic section, has the earliest downtown.
Prince Island Park
This park is the city's largest park within the confines of the city. It is an island that has numerous walking trails as well as the production of Shakespeare in the Park. It is also the location of two festivals, the Canfest which is the celebration of the West Indian population of the city and the Calgary Folk Music Festival.
Calgary Tower
Calgary Tower provides visitors the spectacular view of the city and encircling areas, including the Rockies. The tower's features include an observation platform, a pub and a restaurant that revolves.
Chinatown
Calgary's Chinatown is the third largest in Canada. Its location is northeast of Calgary's downtown. The area is the core of the Asian population and reflects the culture of the Pacific Rim with representation of Japanese, Vietnamese and Chinese restaurants as well as stores.
Calgary Stampede
The Calgary Stampede is the city's yearly rodeo, exposition and festival that occurs during July. The event lasts for ten days and attracts over a million visitors. The show presents the largest rodeo in the world and a parade, concerts, agricultural exhibitions and a chuck wagon race.
EPCOR Centre for the Performing Arts
The EPCOR Centre is the focal point for theater presentations in Calgary. It houses three theater groups including the One Yellow Rabbit Performance Theatre, the Alberta Theatre Projects and Theatre Calgary. Two festival are presented by the companies in residence.
Calgary is a population center for the western prairies. The city attracts visitors who might be interested in settling in the area. Wall2wall media is a source that helps residents find the best location for them to live.