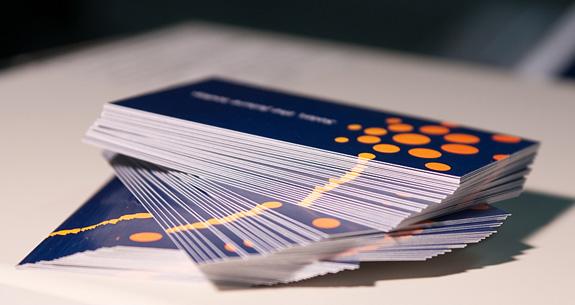 The creation of a business card is the original march towards to the founding of a successful business firm. It's an important aspect of marketing.  This card markets your organization in the manner that you design it. Therefore coming up with it needs a big bunch of expertise advice.
Components of a Business Card
When designing a business card only stick to the essentials of your enterprise. The main things that must appear in your business;
Your personal or business name entity
Your business title or what your enterprise entails
Your personal contact; fax, email, your website, your home or street or office address.
Your business logo
Keep it brief and straight forward in the card as most details will be contained in your brochure.
Types of Business Cards
Designers offer a wide range of different types of business cards that clients need to choose from. When coming up with a business card, experts advice that you should know your firm well to determine the type of card to make. Always consider how your clients will store your business card before settling for the type.
These are the types of cards that are specifically narrowed down to this style of design, although all cards may follow this format.
This is type of card mainly is used in high reputable organizations as it has an outstanding standard, classic format.
This type of cards only portray ones personal communication tendencies. It mainly entails the communication network links of one in the social media like Facebook, Twitter, emails or website.
Different designers may opt for this wild card layout. It may be the huge and folding making a brochure like card or the tiny ones depending on a client's interest. When using folding, use them wisely.
Business Card Printing Techniques
Professional Business Cards printing involves different techniques to suit different clients' interests.  This may include:
Stamping- debussing print technique
This doesn't engage the use of ink. It involves the use of heat compressed into the cards paper, it gives 3-D effects to the card, mostly used when printing logos and badges.
This is the use of varnish to make finishing on specific parts of a business card to give them a richer glossy effect. This prolongs the life of the business card. The highlighted parts become the centre of attraction.
Die cuttings have become way to popular in business card designs. The laser is used to cut the card into different shapes as per a client's requirement, creating an aspect of individuality, distinctiveness, exclusivity and an unconventional look to it. This is done to accord the taste and personal interests of the client.
Matte shine glossy shielding
Matte covering offers a very good protective layer. It's faint and monotonous to give a descent, glistening and lustrous look. Its water defiant and malleable. The coating acts as a shield and cover to the card hence prolonging its life.