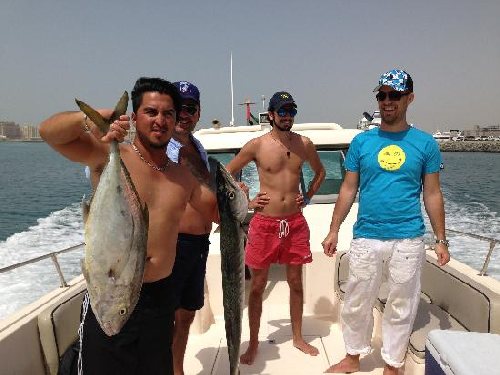 Deep sea fishing is the popular outdoor activity in Dubai for those who enjoy being out in the sea. Shallow and warm waters of Arabian Gulf are swarming with bluefish, flounder, striped bass, porgy, blackfish, sherry, barracuda, Ibrahim, Sultan, small shark, hammour, cobia, and kingfish. No wonder this pristine emirate Dubai has developed into a must-visit spot for fishing enthusiasts.
Dubai hosts some most excellent sea fishing events. Adventure, fun, gorgeous weather, and the fierce waters teemed with fish makes bottom fishing a thrilling adventurous choice for majority of tourists.
Fishing Tour Companies
Many fishing tour companies operate in Dubai. They offer sports fishing boats, quality fishing equipment, and professional captains, who control the helm. Several fishing tour companies organize extra activities like water sport activities and coastal cruising. It depends on the trip duration. Tourists are also provided light refreshments. Check with them, if they can pick you up from the hotel and drop off.
Fishing Rules
License is needed for recreational fishing. A fishing tour company can help tourists to avail a short-term licence. UAE residents can get it from their municipalities. Remember to show your original passport for Dubai coastal guard approval.
Places for fishing in Dubai
Dubai has several good fishing spots.
Dubai Creek has Hammour and Kingfish
Dibba and East coast has Dorado, Queen Mackerel and Kingfish
Fishing companies and yacht rentals provide superb sports fishing services in Dubai. However, to have a memorable fishing experience, check some basic tips.
Fishing Tips
Sunny day is always the best time to go fishing but some anglers enjoy sailing into the sea, during bad weather. Bad weather can be tough as well as dangerous. Generally, Dubai experiences bright sunny weather, all the year round. Therefore there is no need to get worried about experiencing violent windstorms or thunderstorms, while you go fishing.
Dawn, morning, dusk and night is the best time to get a good hook because lots of fishes are seen swimming on the surface, due to cool water.
Newbie can select basic equipment but those who are experienced and desire to catch large ones then use best equipment. Big fishes need strong equipment. Choosing the bait well is essential because some fishes are selective about their food. You can even take help from the captain of the ship because they are generally expert fisherman and in a good position to give valuable advice on bottom fishing in Arabian Seas.
A good catch is only possible, if you identify where the shoal of fish is located. You need to look around and if you observe seagulls flocking along water surface then fishes are nearby. Fishing yachts are equipped with fish finder or fish sensing sonar. It helps to locate the appropriate fishing spots, where fishes are found in abundance.
Fishing is an activity that needs you to wait for a long time. It is an activity that is less stressful. You need to relax and laze, while waiting for the fish to get hooked. When it does, the excitement to reel your award is unmatched.