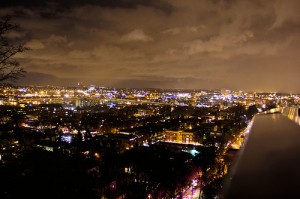 Traveling in the U.S. has been a popular pastime even when cities were scarce west of the Mississippi or the Wright brothers' experiments made jet travel possible. Some of the best cities for tourism in the U.S. are not necessarily the largest or most well-known metropolitan areas. Instead, many are of moderate size and population, allowing you the luxury of deeper explorations.
Regardless of the size of the city, how you reach your destination, how far away from home you might be, or even the time your vacation plans allow for your explorations, here are some of the very best and unique U.S. cities to visit, explore, and enjoy
Portland, Oregon
Image via Flickr by amara photography
Affectionately known by Portlanders as "Puddletown" due to its rainy winters, the largest city in Oregon has transformed itself from a blue-collar freight and harbor center to a Mecca for the arts and green living in high style.
Don't let the rain scare you away — there is more than enough to keep you busy indoors. Portland is also home to a thriving brew pub industry that produces multiple artisan beers depending upon the season and the brewmasters" imaginations. Art galleries and new experimental cuisine restaurants compete for space in recently gentrified neighborhoods, such as the old industrial warehouse district. Visitors will want also want to check out Powell's Books, a full city block-sized multi-story building that partially contains the largest indie bookstore in the world.
Nashville, Tennessee
Every music fan needs to make a pilgrimage to Music City at least once. Also known as the "Songwriting Capital of the World," Nashville boasts around 130 music venues, making it impossible not to enjoy live music during your visit.
A must-see is the iconic, yet unassuming, Bluebird Cafe. This intimate, 90-seat venue which showcases both prominent and aspiring songwriters is where Garth Brooks was discovered. You can still find big names like LeAnn Rimes stopping in, as well as the cast of TV's Nashville — the cafe is one of the show's primary filming locations.
Tampa, Florida
Instead of visiting the landlocked home of Mickey Mouse, consider venturing about 2 hours west to Tampa for water and sand. You'll be hard-pressed not to enjoy the sunshine in this vibrant city ranked number 5 on Forbes list of America's Best Cities for the Outdoors. In addition to major theme parks like Busch Gardens and Adventure Island, you can take advantage of the year-round warm temperatures at some of the country's best beaches in nearby Clearwater and St. Petersburg.
Tampa has a surprisingly diverse cultural scene, with plenty of event venues, museums and high-end dining. Tampa is also home to the Cuban sandwich — roast pork, ham and Swiss cheese pressed between crusty Cuban bread. Be sure to visit Ybor City, Tampa's historic district, to grab the city's favorite sandwich and a hand-rolled cigar.
San Antonio, Texas
San Antonio's Mexican and Spanish roots are undeniable. Thanks to the city's dedication to historical preservation, many 18th century Spanish colonial buildings are still standing. Of course, no visit to Texas would be complete without a trip to the The Alamo, the most famous of San Antonio's attractions. And as far as food, an abundance of Tex-Mex and authentic Mexican restaurants can be found throughout the city.
Getting around San Antonio is both easy and picturesque — San Antonio's River Walk weaves through the city's cultural and historic attractions. In addition to taking a stroll along this scenic waterway, you can hitch a ride on a river taxi.
Los Angeles, California
Despite the earlier admonition not to choose destination cities necessarily based solely upon size or fame, Los Angeles simply must be included at some point in your lifetime U.S. travel itinerary. The sheer size of L.A. guarantees a variety of geography, activities, culture, amusement, sports, events and people-watching for celebrities.
Perhaps more embracing of the "odd," LA doesn't blink an eye when a day includes watching the bodybuilders and other characters of Venice Beach, a visit to downtown's infamous farmer's market followed by a concert, sporting event, or gala evening. If the perfect mix of climate, recreation, beauty and geography prove too much to leave, visitors might consider putting down roots in the nearby Rancho Mission Viejo. Living in or near Los Angeles might be the only solution to the infinite number of activities to explore.
Fairbanks, Alaska
Head north to Fairbanks for some of the most spectacular and breathtaking scenery — by day or by night — all 50 American states have to offer. The city offers two distinctly different tourism experiences: the winter version and the summer one. Either way, your experience will be unique and distinct from anything available in the "lower 48."
Known as the "Golden Heart of Alaska" for its Gold Rush beginnings, travel businesses still offer tourists the opportunity to pan for gold as the earlier miners once did. By day, you can explore the very wild Denali National Park while nightfall usually brings on an astounding show of the Northern Lights, or the Aurora Borealis, said to reach a 13-year peak intensity this year.
Our nation is so diverse — peppered with different cultural influences, local dialects, architecture, politics, common foods, and social mannerisms — that new discoveries are often just a state away.