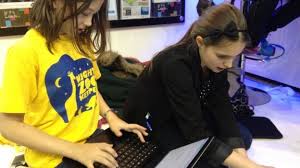 Even adults can struggle to monitor and effectively manage their finances. However, 'money smarts' is something that can be taught. The best way to ensure a brighter financial future is to start teaching monetary skills at a young age.
"Educating children has become a tough task with the constant distraction of technology. Rather than battling for their attention, a simple way to engage with students and educate them on all things finance is to partner with the technology. While there are many complicated web based financial resources for adults, you may be surprised by how many options there are available for the younger generation as well." –  Consolidation Deal team
As children these days are technology natives, they are becoming more and more dependent on mobile devices and internet connectivity within their everyday lives. Utilise the dominance of technology to your advantage by providing your students or children access to some of the following website based resource.
Interactive Games and Videos
There is no question about the fact that children love to play games. However, it is interactive online games which have captured the attention of children today. One of the best ways to pair teaching with fun is through online educational games and videos.
Biz Kids
Bizkids.com is a fantastic online resource for teachers, parents and children. This site not only incorporates a tonne of videos about saving tips and techniques as well as some that explain income and expenses but it also offers a few games that can help the younger audience learn about earning, saving and dealing with banks.
Bizkids.com also offers a huge catalogue of lesson plans for teachers and parents. These lessons include information that covers: credit and debt consolidation , personal finances, financial markets and the economy, saving and investing, entrepreneurship
This site offers a large range of resources that are sure to turn financial education into entertaining and attention grabbing learning.
MinyanLand
While BizKids is aimed at a slightly older audience, MinyanLand is ideal for younger children. MinyanLand encourages children to play finance based games in order to increase their initial funds. Each new player is provided with a property worth $50,000 and $50,000 in MinyanMoney. The children are encouraged to increase their finances through investments and through 'working', completing tasks in games.
This tool is a simple way to get younger children to understand the consequences of their actions in relation to money and finances. Ideal for younger ages, this online resource perfectly matches fun, learning and technology in one handy website.
Turn YouTube into a Teaching Tool
YouTube has quickly become one of the simplest teaching tools in today's technological age. As an easy to use video sharing site, you are bound to find a tutorial or animation which helps to explain difficult concepts to your children or students. There are many animations and even complete lessons on a variety of financial topics which can be used to teach children and young adults the basics of financial literacy.
While children may not be interested in a class teaching them about earning and saving, they may be interested in an animation that explains these concepts through song or an engaging video. Search YouTube for topics such as 'saving money for kids' and you will find a huge array of useful videos to implement in your teaching plans or even at home.
Teaching finances to children is a sure-fire way to help them gain a better understanding of the often volatile financial world. While these online resources may not offer complete and in-depth teachings about everything finance, they are a great place to start. Kick start your kid's financial literacy early by utilising technology to your advantage.