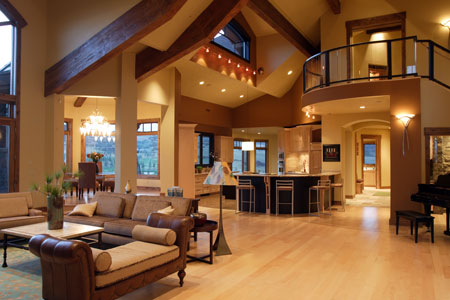 Are you thinking about a build on your own lots project because you have set your eyes on a particular piece of land, you want to construct in an already established neighborhood and you actually have your own set of plans? If it is also possible that you want to become heavily involved in the entire project from the beginning to the end, you need to consider custom home building. Just like the name says it all, the process of custom home building is not as scripted as that of a production home since you are not going to get any pre-defined menus or choices to select from.
The process of working with custom home contractors works with building on your own lot that you already have or are planning to acquire and you may either supply the floor plan or commission that someone develops a set of home plans from scratch. You are also at liberty to work with a separate architect and builder and if you like it, you can even involve a design and build company that will manage the architectural designs and move on with the entire construction project. Perhaps the most interesting thing is that you will get involved in the entire project so that you have every opportunity to make any decisions; this allows you to manage to work within your budget instead of cases where you are forced to select from a pre-defined set of menus.
As a rule of the thumb, you will definitely spend more money that someone who goes for a production model of a similar size and floor plan. The reason may be because as a custom home builder you may not enjoy the economies of scale as well as the labor efficiencies that are available to the production builder. The actual amount of money you will spend on a build on your own lot project will be determined by a number of variables with the most obvious ones being the actual size of your home, how elegant and intricate the design is, the building materials and projects you choose and finally how much you pay for the land itself.
The key to working with a custom home contractor effectively is to start by establishing a budget that is realistic and stick to the same; don't fall for the temptation of being enticed by some lovely but extremely higher cost options. Most buyers will appreciate that any additional customization definitely increases that cost of the home but is usually the unrelated land related costs that take most people by surprise; the more reason you need to do your homework extremely well; you don't want to get yourself entangled with too many surprises.