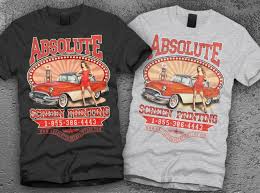 Having customized t-shirt with company's logo has been almost every business's preference. Whether it's a product-based company or service-based company. Also, it has become the smartest marketing strategy to get your business known to mass audience. These printed t-shirts come with great benefits for your business and some of benefits are stated below:
Brand awareness
Using printed t-shirt is the great way to promote your business and increase the visibility of your brand. It can be anything related to your business such as product, service, new product launch or the company's logo itself. Advertising and branding, both increase brand value and spread awareness,. But, branding your company's logo through printed t-shirts is something that your customer found more interesting.
Valuable offering for your customer
Your potential customer would love to recieve something valuable from you that directly twill build the trust and faith for your business. This ultimately runs for long association with your brand. Giving your customers gifts and rewards are the way to ensure their sustainability and long-term relationship with your business and it's product and services.
Team spirit
Printing brand logo t-shirt for the team member in your business is a great way to build the unity and harmony amongst them. You can also ensure their retainership and trustworthiness towards your organization. Creating uniformity brings all the employees little closer in case you have a great number of employees.
It is effective
Online campaigning on social media or promoting your business on television is absolutely one of the strategies that are up and trendy. But, printing t-shirts has its own longevity and retainership in order to provide you the effective result. It never goes out of the market and keep your potential customers happy and engaging.
Cost-efficient
Spending a huge amount of money on a TV advertisement or on an online campaigning could probably give you the better result at great cost-efficiency. But, investing in t-shirt printing gives you the assurity of brand awareness and potential customers addition in a reasonable expense. So, if you haven't thought yet to invest in such beneficial strategy, you must take the initiative son.
Great ROI
T-shirt printing is something that has been successfully sticking on its retainership and assuring a great return on investment. Many business owners believe that investing in t-shirt printing have always been a positive income for them.
To sum it up, t-shirt printing is something that not only brings several benefits to a business but also a creative gesture that your customers happily embrace.