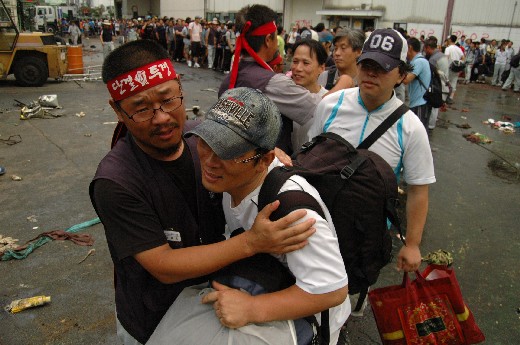 Image from the Hankyoreh
Yesterday the 10-week-long occupation of the Ssangyong automotive plant in Pyeongtaek, South Korea, by striking workers was broken by a final, violent police assault. When Ssangyong went bankrupt and announced the firings of thousands of assembly-line workers, they armed and barricaded themselves inside the plant. I spoke with Loren Goldner, an author writing a book on the Korean working class who visited the factory in June, on Friday about the situation. The workers' struggle has received stunningly little attention in the US corporate and alternative press. He was speaking to me from New York City. Please share and re-broadcast.
MP3. Cross-posted to Radio Indymedia and libcom.
Update: The podcast does not convey the "epic," in the BBC's words, nature of the final four-day fight the workers put up against the police. Below are pictures and videos collected from Youtube and libcom.org.